Harrison West Resident Wins RecyColumbus Phase 4 First Cart Contest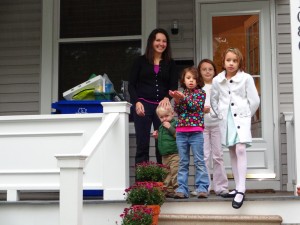 Mayor Michael B. Coleman today delivered a blue recycling cart to Columbus resident Sarah Brown, 1080 Michigan Avenue, to start Phase 4 of RecyColumbus, the City of Columbus' new residential recycling service.
"Columbus residents are enthusiastically participating in the new recycling program as it implemented across the city," said Mayor Coleman. "Residents in the first three phases of the program recycled nearly 4,600 tons of bottles, cans and more between June and the end of September to make Columbus cleaner and greener."
Columbus residents who live in the following neighborhoods will receive the blue residential recycling carts at their homes between October 15 and November 17, with bi-weekly recycling collection service beginning Thursday, December 6 at no additional cost:
· Beechwold
· Clintonville
· Italian Village
· Harrison West
· Milo-Grogan west of I-71(Milo-Grogan east of I-71 will be included in Phase 5)
· Northwest side south of Bethel Road and north of Columbus-Grandview Heights
boundary
· Old North Columbus
· Short North
· University Area
· Victorian Village
· Weinland Park
Recycling will be collected on a bi-weekly schedule, alternating with yard waste collection.
"Columbus' residential recycling program is an easy way for households to help protect the environment and it has already proven to provide real savings to the City because the community is able to lower the amount of waste sent to the landfill," said Councilmember Eileen Y. Paley, chair of the Public Service and Transportation Committee.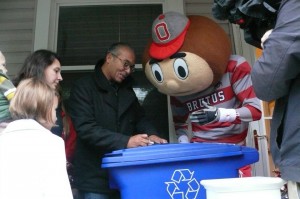 RecyColumbus, being implemented in five phases, will serve approximately 215,000 households by the time the program is fully implemented in February 2013. Columbus residents living in single-family homes or in a building with four units or less that are not part of a complex are eligible for this convenient and easy-to-use city service.
The 4,584 tons of recyclables collected between June and end of September saved the City more than $254,000 in tipping fees at the County landfill. In addition to saving millions of dollars in landfill tipping fee costs over several years, recycling preserves the environment.
The Ohio State University Athletics mascot Brutus Buckeye and the OSU cheerleaders were also in attendance as Mayor Coleman delivered the blue recycling cart and prizes to the Brown residence.
Brown won the First Cart Contest for the fourth phase of RecyColumbus. The contest was promoted using the program's social media and online tools, including Facebook, the program's website – RecycleColumbus.org and email.
The cart was filled with donated prizes from local organizations and businesses including Brio; Columbus Zoo & Aquarium; COSI; Dsolv; Dane's Dessert Café; Franklin Park Conservatory; Gresso's; Hyde Park; Indus Hotels; Kroger; Lemongrass Fusion Bistro; Mickey's Late Night Slice; Nutur Salon and Spa; Schmidt's; Spinelli's Deli; Phia Salon; Tropical Trends and Weisenbach Recycled Products.
More information on the program for Harrison West residents.

Print Friendly