Harrison West Jazz Stage Returns for Fourth Season This September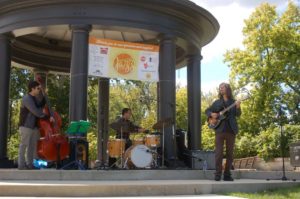 Columbus, Ohio – The Harrison West Jazz Stage again welcomes the finest in local jazz talent for four weeks starting Sunday, September 11, 2016 at the Harrison Park Gazebo. Kicking off the series is local big band legend Vaughn Wiester playing the swinging sounds of 1950s jazz legends like Stan Kenton and Woody Herman. Among Wiesters' musical credits is touring with Herman's band in the 70s.
This year's musical lineup is as diverse as ever, running the spectrum of the jazz genre. Randy Mather brings his straight-ahead jazz-saxophone quartet to our second show along with with the soulful stylings of singer Jeanette Williams. Local jazz-fusion quartet Magically Delicious performs their blend of original, modern-jazz compositions, Brazilian jazz, funk and more during the third week. The series concludes on October 2, 2016 with the rhythmic and passionate Brazilian jazz-fusion of Canta Brasil with Brazilian native and drummer Danny Aguiar.
"Every year the series grows in popularity, with fans coming to Harrison West from all over Central Ohio," says Mark Subel, co-founder of the series. "We're excited to present a diverse lineup of local jazz talent from swinging big band sounds to Brazilian jazz fusion. It's truly a treat to share the best of Columbus's jazz scene in the beautiful setting of Harrison Park and gazebo right on the Olentangy River."
2016 Harrison West Jazz Stage Concert Line-up
The Harrison West Jazz Stage takes place for four Sundays in the fall from 1–2:30 p.m. This year's series starts on September 11, 2016 and ends on Sunday, October 2, 2016. Concerts are held at the Harrison Park Gazebo located at the intersection of West First Avenue and Harrison Park Place. Concerts are child-friendly; Harrison Park includes playground adjacent to the concert lawn. All performances are free to the public. Food may be purchased from participating food trucks. Should any concert be canceled due to inclement weather, October 9 has been scheduled as the rain date.
The series was launched in 2013 by local couple Mark Subel and Dara Schwartz to celebrate their love of both jazz and Harrison West. Each week, hundreds of residents flock from all over Central Ohio to relax on a Sunday afternoon and take in the sounds of jazz set against the riverside park and gazebo. Cheers to the sponsors who are helping to make it all possible again this year: Wagenbrenner Development, Abitec, Harrison House Bed & Breakfast, Partnership Through Sponsorship (City of Columbus), Bunn Minnick Pipe Organs, CoverMyMeds.com, Harrison West Society, Integrated Building Systems, Jazz Arts Group of Columbus, Katalina's, The Short North Foundation and Ken Wightman, Berkshire Hathaway Home Services American Realty Center.
For more information, visit www.Facebook.com/HarrisonWestJazzStage

Print Friendly