Free Beethoven Concert September 7 at Columbus Museum of Art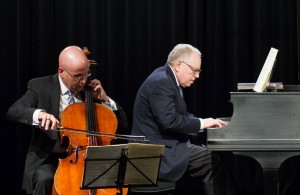 Nonprofit recital series Sunday at Central will present Beethoven! Part II, featuring world-renowned musicians Robert deMaine (cello) and Peter Takács (piano), on Sunday, September 7 at 3:00 p.m. in Columbus Museum of Art's Cardinal Health Auditorium. Admission is free and guests will have free access to galleries in CMA's permanent collection.
The program is the conclusion of the cycle of complete works for cello and piano that started last season. This concert will feature Beethoven's Sonatas (Op. 5 No. 1 and Op. 102 No. 2) and two sets of variations on themes of Mozart. These works span the composer's career (from 1795 to 1815) and highlight his evolution from bold young composer to mature master.
With just two movements, the first sonata in F major (Op. 5 No. 1) is a youthful piece reminiscent of the spirited style of Joseph Haydn. The second movement playfully veers into tempestuous waters and offers folk-like passages with a drone bass in the cello. Following are two sets of variations on arias from Mozart's Magic Flute, an opera that Beethoven greatly admired. The concert ends with the final sonata in D major (Op. 102 No. 2), a bold and straightforward piece with the only full-fledged slow movement in the entire cycle. It represents a deep emotional statement from Beethoven at the peak of his mastery. The final movement of the final sonata is a rollicking fugue, pitting pianist and cellist against each other in a contrapuntal maze that ends with both musicians racing to the finish in unison.
This 90-minute program is recommended for ages 9 and older. Columbus Museum of Art is located at 480 East Broad Street and parking is free. To learn more, visit sundayatcentral.org.
About Robert deMaine [robertdemaine.com]
A fourth-generation string player, Robert deMaine studied at Juilliard at the age of 12. He attended Yale University on full-tuition fellowships and has performed as soloist, recitalist, orchestral principal, recording artist, and chamber musician on five continents. He was Principal Cellist of the Detroit Symphony until October of 2012, when he was appointed Principal Cellist of the Los Angeles Philharmonic.
About Peter Takács [petertakacsplaysbeethoven.com]
Hailed by the New York Times as "a marvelous pianist," Peter Takács was born in Bucharest, Romania and was admitted to the Conservatoire National de Paris at the age of 14. He has performed as guest soloist with major international orchestras and has participated in Tanglewood, Music Mountain, Chautauqua Institution, Schlern Music Festival, and the Helsingborg Festival. He has served as Professor of Piano at the Oberlin Conservatory of Music since 1976.
About Sunday at Central
Sunday at Central is a nonprofit chamber music recital series that was founded in 1994. It offers intimate, personalized traditional chamber music concerts with internationally recognized professional musicians. Sunday at Central is funded in part by grants from the Greater Columbus Arts Council and Ohio Arts Council, and receives support from The Columbus Foundation's Community Arts Fund and the Ingram-White Castle Foundation.
Contact
Alexandra Fox: alex@alexandra477.com
Facebook.com/sundayatcentral
sundayatcentral.org



Print Friendly