Columbus Marathon is Seeking Harrison West Volunteers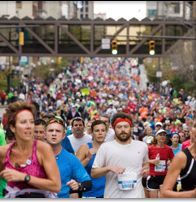 Jayne Dorfman, an area captain for the 2012 Columbus Marathon, is seeking volunteers to serve as course marshals along the race segment that begins at Olentangy River Road and West Fifth Avenue, runs east along Fifth, turns south on Neil Avenue, circles Goodale Park and ends just shy of the finish line.
Course marshals help motorists navigate around the race, watch for runners who may need assistance and, of course, cheer on the runners. Jayne needs volunteers from 7:30 a.m. until approximately 3 p.m.
How to Volunteer
Volunteering to serve as a course marshal is a wonderful opportunity for the residents of Harrison West to showcase their neighborhood while engaging in the community. If you are interested in volunteering, please contact Jayne; she will be happy to provide instruction on how to sign up and can answer any questions that you may have. You can also visit the Columbus Marathon Website and follow the volunteer registration links. The segment of the course for which Jayne is responsible is designated "Area 9 Course Marshals Victorian Village."