City of Columbus To Start Intensified Pothole Repair Effort Sunday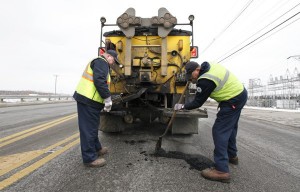 The city of Columbus will begin a two-week intensified pothole repair program Sunday, April 7, 2013.  Department of Public Service Street Maintenance crews will patch potholes daily during the effort through April 21, weather permitting.  Potholes cannot be repaired during snow, ice and rain events.
The pothole effort will be done within regular working hours at no additional costs, without using overtime.
During the two-week intensified pothole repair effort, residents may report potholes through Facebook at Columbus Public Service or Twitter @ColumbusDPS, in addition to the customary 311 Customer Service Center.  To help the City better serve residents, the City asks residents to include the location of the pothole by referencing:
The name of the street where the pothole is located
The address of a home or business closest to the pothole
The direction of travel (northbound, southbound, eastbound, westbound) where the pothole is located
If it is a multi-lane street, the lane in which the pothole is located
Residents are also reminded to not use Twitter or Facebook while they are driving.  Both the state of Ohio and city of Columbus have laws that prohibit texting while driving.
City crews repaired 130,397 potholes in 2012, a 31% decrease from the 2011 pothole repair total of 190,196.  The City's investment of more than $80 million to resurface more than 350 streets between 2010 and 2012, combined with a more aggressive pothole repair program in the past several years contributed to the decrease in the number of potholes repaired during the just concluded winter season:
City crews fixed a total of 25,386 potholes between November 1, 2012 and February 28, 2013, a decrease from 40,282 potholes repaired between November 1, 2011 and February 28, 2012
As part of the City's more aggressive pothole repair effort:
§  The City repaired a combined 67,794 potholes during its annual spring pothole repair initiatives, 2010 – 2012:
­   March 18 – April 1, 2012:  12,646 potholes repaired
­   March 14 – 25, 2011:  20,593 potholes repaired
­   March 1 – 31, 2010:  34,555 potholes repaired (Followed snowiest February in Columbus history)
§  City crews repaired 34,849 potholes between November 1, 2010 and February 28, 2011, and 29,418 potholes between November 1, 2009 and February 28, 2010
§  City crews fixed 7,758 potholes in December 2011, more than the combined 7,541 potholes repaired during the previous two Decembers of 2010 and 2009
§  City crews repaired 10,400 potholes in January 2012, more than the 7,597 pothole filled in January 2011 and the 8,653 potholes fixed in January 2010
Pothole patching is a year-round city of Columbus priority.  The standard for pothole repair is within three days after a service request is filed with the City's 311 Customer Service Center.  The standard may go beyond three days when:
A very large volume of potholes are being reported
Snow, ice or rain storm that prohibit pothole patching; In these instances, the standard is to patch potholes as soon as possible
The severity of winter weather and the general condition of city streets drive the number of potholes.  From 2007 through 2012, the City has patched an average of 93,994 potholes per year.
Residents are encouraged to report potholes throughout the year by contacting 311 at 311 or 645-3111, or online at www.311.columbus.gov.
The City is responsible for repairing potholes on 6,381 lane miles of roadway; a lane mile is one mile of roadway multiplied by the number of lanes on the roadway.
The two-week pothole repair effort will be funded through the Department of Public Service's Street Construction Maintenance Fund.