And the Winner Is…
Matthew Williams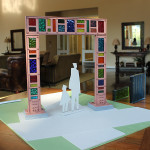 Todd Kime's Through has been selected as the new public sculpture in Harrison Park!
On July 25, 2015, three artists vying for a commission to create the last of five planned sculptures in Harrison Park presented their design proposals at a community potluck. Attendees who were able to settle on one of the three excellent designs that evening could vote on site. Those of us who needed more time to pick a favorite—nearly 600 of us—were able to vote online until 5 p.m. on August 11, 2015.
The Harrison West Society, the Department of Recreation and Parks and the Columbus Art Commission will now work with Kime to finalize details and contract for fabrication and installation.
We hope to have an unveiling in summer or fall 2016, so keep an eye on harrisonwest.org for updates.