2013 "Summer Fridays at the Statehouse" Performing Arts Series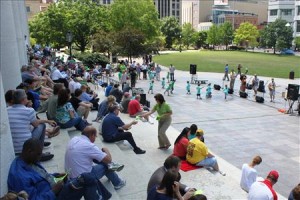 The Ohio Statehouse today announced the 2013 Summer Fridays at the Statehouse schedule of performances. The Capitol Square Review and Advisory Board (CSRAB) has partnered with 13 central Ohio performing arts groups to present, Summer Fridays at the Statehouse. Summer Fridays is a FREE lunch-time outdoor performing arts series staged on the West Plaza (High Street) of the historic Ohio Statehouse. Summer Fridays at the Statehouse provides an opportunity for the public and downtown community to gather on Capitol Square to experience some of Columbus' diverse arts groups and to visit the beautiful Capitol building.
This year's participating performing arts groups include a diverse cross section of central Ohio's arts organizations.
Scheduled 2013 performances include:
May 31 – Opera Columbus, concert performance of La Bohème
June 7 – One Way Gospel Singers, Gospel & Country
June 14 – (Flag Day) RMT Presents, Songs of America, Americana
June 21 – Franklin Xpress, Classic Rock
June 28 – Columbus Gay Men's Chorus, Choral
July 5 – NO CONCERT
July 12 – Ohio Dance
July 19 – Columbus Symphony Youth Orchestra Pops, Classical
July 26 – Alliance of Greater Central Ohio, Barbershop Harmony
August 2 – Ladies of Longford, Celtic
August 9 – Grassahol Band, Bluegrass
August 16 – Big Iron, Country, Bluegrass, Gospel
August 23 – The Smoking Guns, Blues, Country, Rock
August 30 – Steve Ball, Music of the Civil War
Summer Fridays at the Statehouse will take place Fridays, May 31 through August 30 (absent July 5). The program will run between noon and 1 p.m. The series gives the downtown community and visitors the opportunity to enjoy the majestic Statehouse grounds while some of Columbus' best arts groups perform. There is no better place, downtown, to enjoy your lunch this summer!
Visitors are encouraged to bring their lunch – there are a number of downtown restaurants located on Capitol Square. Also, CSRAB will be taking non-perishable food donations for Operation Feed through June 14.
Performances will be canceled in the event of inclement weather. Up to the minute performance information about Summer Fridays at the Statehouse will be posted on the front page of the Ohio Statehouse website at www.ohiostatehouse.org. Summer Fridays at the Statehouse audience members are encouraged to visit the Statehouse website each morning of the scheduled performances to retrieve last minute performance information.