Wagenbrenner Battelle Development Update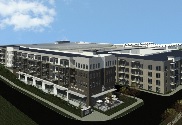 Wagenbrenner Development has informed the Harrison West Society of a significant change to its proposed development on the Battelle property, between Fifth and Third Avenues and West of Perry Street.
The anticipated gourmet grocery store tenant has withdrawn from the project. Prior to withdrawal from the project, the grocer space had a footprint of 40,000 square feet. As of 6/18/18 the updated plans replace this with the following: 12,065 square feet of restaurant, coffee shop, and retail space. A decrease in single family homes for sale by 4, and an increase in townhomes for sale by 13 (overall increase of for-sale space by 9). 41 additional market rate apartments. A reduction in the 79 space parking lot to 19 spaces with the 60 additional spaces put into the garage. An increase in park space from the initial proposal of 6.18 to 6.42 acres; however, the Southern line of the park has not changed. Note that a tenant has not yet been identified for the retail space and this may change between retail and restaurant.
For the latest updates regarding this development visit the Harrison West Society Facebook page.

Print Friendly