Jaeger Run for Pride to Pass through Harrison West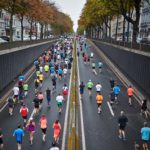 The Jaeger Run for Pride 5K will be held on Friday, June 17, 2016 during the Columbus Pride Festival. The race will begin at 7:00 p.m. at Goodale Park and follow a route through Harrison West. The race is expected to end by 8:00 p.m. Attendance is estimated at 200 participants.
Note that this is an evening run. Please plan accordingly.

Print Friendly