Holiday Party!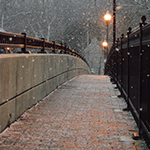 December meeting? Nah. Let's Party! In lieu of our regular monthly meeting, please join the Harrison West Society and your neighbors for our 2016 holiday party in the Zeno's basement on Wednesday, December 21 at 7:00 p.m. One free drink (beer, wine, or well liquor) for each society member and appetizers will be provided courtesy of our friends at Wagenbrenner Development. Please bring a dessert to share.
Prizes from neighborhood businesses will be raffled off during the party. If you are interested in contributing a raffle prize on behalf of your business, please contact Stephanie at social@harrisonwest.org. We will also announce the winner of the 2016 Neighbor of the Year award. Who wants to miss that!?
You can also read about the party on Facebook.

Print Friendly