Free Concert to be Performed in Complete Darkness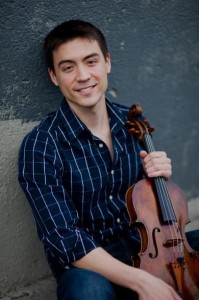 The Johnstone Fund for New Music, in partnership with the VIVO Music Festival, will present a free contemporary classical music concert of Georg Friedrich Haas's String Quartet #3 "In iij. Noct" called "In The Dark" on Saturday, August 22 at 7:00 p.m. in the Green Room of the Garden Theater. The performance is part of the "New Music at Short North Stage" concert series and will be the second of three concerts in the inaugural VIVO festival. Seating is limited and is available on a first-come first-served basis.
Haas's String Quartet #3 is performed in an environment of complete darkness, with the four members of the quartet arranged spatially around the audience. Without the aid of their eyes to guide the listening experience, audience members will enter a world of confusion and seeking, confronted by a musical language of almost inaudible fragments of noise, raging clusters, violent pizzicati and sublime spectral chords. Throughout the work, listeners will follow an unforgettable journey that is both phenomenological and metaphorical. The piece has received rave reviews in performances around the world.
Prior to the performance of the Haas quartet, violist John Stulz and cellist Jay Campbell will perform Janusgesicht ("The Face of Janus"), a short work by Matthias Pintscher in which the players sit back-to-back. The work will also be performed with the lights turned off in order for audience members to get accustomed to the dark. Anyone who feels uncomfortable will have a chance to leave the Green Room before In iiij. Noct is performed.
This performance is recommended for ages nine and older. The Garden Theater is located at 1187 North High Street in the Short North. Parking is available at a lot just south of the theater and at nearby meters.
About the VIVO Music Festival
The VIVO Music Festival (vivofestival.org) is an annual chamber music festival debuting on August 21-23 of 2015 that's dedicated to bringing an exciting, community-minded chamber music experience to Central Ohio. It's led by artistic directors Siwoo Kim and John Stulz and executive director Ted Ou-Yang.
About Quartet Senza Misura
Formed in 2013 by four graduate students at The Juilliard School, Quartet Senza Misura promotes the performance of new music while infusing a renewed vitality to the standard repertory. Its members include violinist Siwoo Kim, cellist Jay Campbell, violinist Francisco Fullana and violist Danny Kim. The quartet has taken its "whip-smart" (Alex Ross, The New Yorker) performances to such venues as The Stone, Le Poisson Rouge, Alice Tully Hall of Lincoln Center, the Seoul Arts Center and Terrace Theater of The Kennedy Center. Recent appearances by the quartet include a solo quartet concert with the Metropolis Ensemble at Le Poisson Rouge, A Phillips Collection debut with harpist Bridget Kibbey, Philip Glass's fifth string quartet at Juilliard's 109th Commencement ceremony, and a performance of Samuel Adler's Piano Quintet in celebration of his 85th birthday with pianist Jerome Lowenthal. The quartet has also performed in Caracas, Venezuela at the Festival de Música de Cámara and in South Korea with violist Richard O'Neill for his 10th anniversary performance tour.
About The Johnstone Fund for New Music
The Johnstone Fund for New Music was founded by Columbus community leaders Jack and Zoe Johnstone in 2008. It supports the continuing growth and vitality of contemporary classical music by funding the creation and performance of new works for a growing audience in Central Ohio.
About Short North Stage
Short North Stage is a professional regional theater company that resides at the historic Garden Theater in the Short North Arts District. Dedicated to presenting first class productions with an emphasis on musicals, it offers everything from small cabaret acts to full-scale theatrical productions.
Contact Alexandra Fox: alex@alexandra477.com
Facebook.com/johnstonefund
Facebook.com/shortnorthstage
Facebook.com/vivofestival
johnstonefund.org
shortnorthstage.org
vivofestival.org

Print Friendly