Electronics Recycling Drive at Integrated Building Systems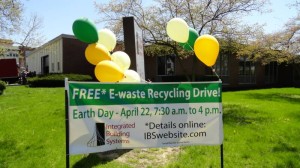 Integrated Building Systems at 950 Michigan Avenue is hosting a Free E-Waste Recycling Drive on Earth Day, April 22nd from 7:30 a.m. to 4:00 p.m. at the warehouse entrance on 1st Avenue. Gather the old electronics cluttering your home or office and drop them off at Integrated Building Systems to be safely recycled.
Items available for drop-off:
CRT & LCD monitors Computers
Servers
Laptops
Phone systems
Cell phones
Printers
Copiers
Fax Machines
Scanners
Keyboards and Mice
Wires, cords, parts, & accessories
Stereos
iPods
VCR's & DVD players
Gaming systems
Sorry, no TV's will be accepted.
For more information visit: www.IBSwebsite.com or call 614-240-5999

Print Friendly