City Seeks Neighborhood Input on 2013 Voted Bond Package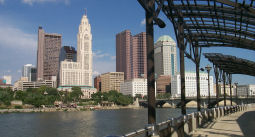 Four Community Meetings Scheduled for June
Mayor Michael B. Coleman, City Council President Andrew J. Ginther and City Auditor Hugh J. Dorrian will serve as co-chairs of a committee to place a voted bond package on the Nov. 5 ballot. In preparation, the committee has scheduled four community meetings to discuss the city's proposed five-year Capital Improvements Program and gather input from residents about infrastructure needs in their neighborhoods.
"Columbus has emerged as the best city for jobs in the entire Midwest because we never stopped investing in our infrastructure, even during tough times," Mayor Coleman said. "We were able to do that because our voters have always supported our bond packages, allowing us to maximize our capital dollars. We will need voter support again this year in order to continue our  tremendous momentum."
The meetings are scheduled for:
–          June 4 at Marion Franklin Community Center, 2801 Lockbourne Rd.
–          June 5 at Whetstone Community Center, 3923 N. High St.
–          June 11 at Barnett Community Center, 1184 Barnett Rd.
–          June 13 at Westgate Shelterhouse, 3271 Wicklow Rd.
Each meeting will last from 6 to 8 pm and will feature members of CityCouncil and representatives from city departments.
"The proposed bond package will not only allow the city to continue our investment in neighborhoods and improve delivery of city services, it saves taxpayer dollars and drives economic development that creates jobs," Council President Ginther said. "By issuing bonds, we lower the cost of infrastructure improvements, allowing us to do more with less, all without raising taxes."
A voted bond package allows the city to make the best use of existing resources to build and maintain infrastructure, facilities and equipment. Approval of the bond package would not result in a tax increase. Rather it would allow the city to maximize its resources by financing neighborhood projects at lower interest rates. The City of Columbus is the largest city in the United States to earn AAA credit ratings from all three major rating agencies. That rating, combined with voter approval, increases investor confidence, thus allowing the city to finance more projects with fewer dollars and no new taxes.
"Columbus voters have demonstrated their keen understanding of the financial savings in granting their approval to the city's bond package requests," Auditor Dorrian said. "Columbus voters have approved every bond package the city has put before them for nearly three decades now and continue to benefit from their prudent approvals. I encourage our Columbus voters to join us, once again, in giving the city the tools to meet its infrastructure needs in a cost efficient manner."
The last Columbus bond package was approved by city voters in November of 2008.

Print Friendly