Art Walks & Landmark Talks Return for 2014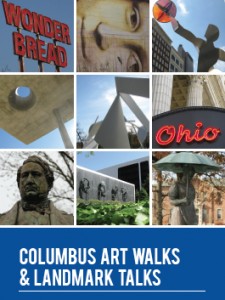 Columbus Landmarks is once again joining forces with Columbus Public Health to offer 32 free guided "Art Walks & Landmark Talks" this summer and fall including one in the Harrison West area on Monday, August 11th from 6:30-7:30 p.m. beginning at St. Francis Church (386 Buttles Ave.).
The free, one-hour walking tours are made possible with support from the Ohio Humanities Council. We will kick-off the series in Franklinton on Monday, June 2. Tours are offered weekly on Monday evenings and some Sunday evenings from 6:30-7:30 p.m.
The full schedule can be found online: http://columbuslandmarks.org/art-walks/
Columbus Art Walks were developed by Columbus Public Health as self-guided walking maps with audio tours of 13 districts. Columbus Art Walks & Landmark Talks bring to life the maps and key features, providing a guide to narrate the public art, architecture and history along the route. We are offering tours of each district on two or three different dates featuring different routes each time, so every tour provides the opportunity to see/learn something new.
Get your week off on the right foot and join the conversation! No registration required – simply show up at the meeting place a few minutes before 6:30 p.m. Tours cover approximately one mile at a leisurely pace. Wear comfortable shoes and bring a water bottle. In case of inclement or threatening weather, please call 614.221.0227 – we will leave a recorded message by 6 p.m. regarding tour status.

Print Friendly